Kenneth Parnell & Steven Stayner
Serial pedophile Kenneth Parnell abducts seven-year-old Steven Stayner, the brother of serial killer Cary Stayner, and takes him to live in his cabin near Yosemite. By a tragic coincidence, Stevens stepmothers father had a cabin a few hundred feet from Parnell's, not knowing that his Steven was easily within the sound of voice.

Stevens seven years of captivity are partially shared when a new boy is abducted and shares his fate as a sex slave to the aging pedophile.

Years later in 2002, Parnell was free and in his 70s, but Parnell's age and frailty did not prevent him from asking a caregiver to obtain a little African-American boy for him. Parnell offered the woman $500 for the service. At first, the woman doubted that the old man was serious, but when she became convinced that he was, she went to the authorities. A sting operation was arranged and Parnell was caught red handed in an attempt to perpetrate his twisted, criminal behavior on another child victim
December 4, 1972
In the late 1960s, Merced, California, was a safe town. It watched from the sidelines as neighboring areas were terrorized by the infamous crimes of the Manson Family and the Zodiac Killer.
California map with Merced marked
Merced, nestled near Yosemite Park, was described by its residents as peaceful and a good place to raise a family. Parents believed their kids were safe walking and playing in their neighborhoods.
When the new decade dawned, the parents would be proven wrong.
Del and Kay Stayner raised their family in a residential area of Merced, where the kids enjoyed the normal ups and downs of their typical small-town childhood. But all of their childhoods were about to be torn apart.
Kenneth Parnell
On December 4, 1972, stout and balding Kenneth Parnell, a worker in Yosemite Park, told a friend and co-worker named Murphy that they were going into Merced on a mission. Murphy wasn't one to ask a lot of questions, so the two made their way out of the remote forest and toward civilization.
In Merced that afternoon, seven-year-old Steven Stayner was walking home from school. Often he would walk with his friends or siblings, but on this winter afternoon he was walking alone when he was approached by a man who asked young Steven some general questions about religion. Unlike other children Murphy had approached, Steven stopped and talked with him for a minute, and listened patiently while Murphy told the boy that he was soliciting donations for his church.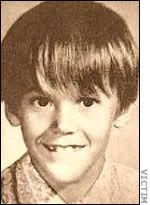 Steven Stayner, before kidnapping
When Murphy asked if Steven's parents might want to make a contribution, Steven told him that his mother might be interested. Murphy told Steven that he would give him a ride home in his friend's car, which was waiting nearby. Initially, Steven told Murphy "it's just a little ways, I can walk," but eventually was persuaded to get into the car, where Parnell was waiting behind the wheel.
Abduction
In no time Steven could tell that Parnell was not driving toward his house, but he didn't panic. As a seven-year-old boy, he probably was enjoying the adventure of the ride through the mountains surrounding Yosemite Park while the darkness of a cold evening settled in.
Yosemite Park, late evening
Parnell brought Steven to his cabin near Yosemite. As Parnell talked quietly with Murphy, Steven began playing with the toys Parnell had earlier set out for whatever boy he would grab from the streets of Merced that day. To keep the boy from becoming worried or anxious to return home, Parnell lied and told Steven that he had called his mother, Kay, and she said it was okay for Steven to stay over for awhile. Steven didn't have the maturity or experience to doubt him, so he went back to playing.
Back in Merced, when Steven hadn't returned home and darkness fell, Kay and Del became concerned about their middle child and began asking neighbors if they'd seen him. After a couple of hours of searching, they called police and contacted their friends and family to help with the search. By a tragic coincidence, Kay's father lived in a cabin a few hundred feet from Parnell's. Del went to tell his father-in-law about Steven's disappearance, not knowing that his son was easily within the sound of voice.
Unknown to Del and Kay, December 4th was just the beginning of what would become their Herculean effort to find Steven. The following years would see countless letters and "missing child" flyers sent out by Del and Kay in an effort to find their lost boy.
Back at Parnell's remote cabin, as the days away from his family grew into weeks, Steven wanted to return home. He told Parnell that he was afraid that his parents would be angry about how long he'd been gone. He asked Parnell several times to take him home, but Parnell refused each time.
In the short time Steven had stayed with him, Parnell had learned about the boy's family life, including the fact that Steven had been punished by his parents the day before his abduction for some minor misbehavior. Using that information, and wanting the boy to stop asking to go back to Merced, Parnell finally told Steven that he had contacted his parents, and Del and Kay had said that they didn't want him back.
Steven became upset and confused. Parnell soon cemented this lie by telling Steven that he had gone to a judge and received full legal custody of the boy. Parnell proudly told young Steven that he was to call Parnell "Dad" and that from that day forward Steven would be known as "Dennis Parnell."
Life As Dennis
Life for Steven as "Dennis Parnell" would prove much more helter-skelter than the life he had enjoyed with his family in Merced.
Ukiah on Calif map
Steven would move 12 times within northern California during his seven years living with Parnell. Parnell and his "son" lived briefly in Yosemite Park, Ukiah, Manchester, Santa Rosa, and various rural areas north of San Francisco. Steven probably never had a chance to settle into any single area or school, as Parnell's whims and need to find new jobs kept them constantly on the move. Many of the places they lived in were fairly remote, as Parnell probably didn't want neighbors asking too many questions.
Over time, the ruse worked. Looking back, many who knew the two stated that they appeared to be a normal father and son. One of their landlords said later that he had no doubts about their relationship and that they "got along real well."
Steven tried to cope with his chaotic new life as well as a young child could. As time went on, he would fabricate a family lore about himself and Parnell that he would recite to neighbors and other school kids if they asked although he would rarely, if ever, volunteer any information. When questions were asked that weren't included in his story, he would ignore them. Once, in the later years of his captivity, a neighbor was giving "Dennis" a ride and asked about the boy's mother. Steven acted as if he hadn't heard and changed the subject.
Despite Parnell's statements about having legal custody, Steven later said that when he was about nine, he began to suspect that Parnell had lied to him about his family's giving him up, but he didn't pursue it. Parnell even left him on his own while he was at work, and Steven later testified that he didn't fully understand why he hadn't tried to escape earlier in his captivity.
Troubling Behavior
With effort, Steven could focus on the few "brighter" times of his long captivity, and later recalled playing softball, riding bikes with friends, and enjoying the particularly rustic outdoors that often accompanied Parnell's choices of remote houses. Steven later claimed that Parnell sometimes "spoiled" him, probably to keep Steven from running away or telling others the truth.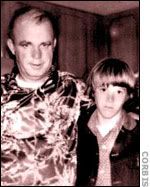 Steven Stayner with Parnell
Naturally, however, there were signs of deep distress in a young boy in those circumstances, as Steven also remembered using drugs and alcohol (often supplied by Parnell) as early as elementary school. Additionally, Steven had some minor scrapes with the law including shoplifting and using a BB gun to shoot out some windows of a nearby school.
Some of his teachers were puzzled by this darker side. His fourth grade teacher later testified that Steven didn't have many friends, and that "there was an attitude about him ...a tightening of his body. It was almost anger [that] emanated from him."
But school administrators generally ignored red flags such as Steven's sometimes troubling behavior and the lack of all of his early school records. Ironically, Steven attended some of the same schools that had previously received a "missing child" flyer distributed by Del and Kay after Steven's disappearance, but nobody made the connection or fully realized the horrors Steven suffered at Parnell's hands.
Although he initially denied it after reuniting with his family, Steven later testified that he had suffered from repeated sexual abuses by Parnell "about once every two weeks" throughout his captivity.
The months of sexual abuse lengthened into years and, as Newsweek summarized it in 1984, Parnell "gradually demoralized [Steven] into self-willing captivity."
For several years, Steven walked the tightrope between trying to feel affection for Parnell, the only parent he now had, and the terrible fears caused by repeated abuses. He sank into a deep denial about the horrors of his life and never told anyone about his real past.
Steven was also terrified of Parnell's anger and tried not to make his "father" upset and quickly learned that by obeying him, Steven could avoid the severe beatings Parnell used as punishment.
In his early teenage years, however, Steven's strong facade started to crack: once, at a party with some friends, Steven became drunk and began crying uncontrollably and made allusions to his true identity and past. Additionally, Steven began to covertly disobey Parnell, especially when it began to involve additional kidnappings. Steven later told police that during his captivity, Parnell had tried to get his help in kidnapping other small children, but Steven would deliberately "mess things up."
Perhaps tiring of Steven's failures in obtaining a new addition to "his family," Parnell turned his attention to another possible accomplice: a 14-year-old friend of Steven's named Randall.
A New Boy
In early 1980, Parnell offered Randall drugs and money if the teenager would help him "grow his family." Seduced by the payoff, Randall agreed.
Valentine's Day found Parnell and Randall driving into Ukiah, where they stopped at a drug store to buy fruit juice and over-the-counter sleeping pills.
After driving around the city, Parnell spotted 5-year-old Timmy White walking alone from school to his babysitter's house.
Fearing that Timmy might run from an adult, Parnell told Randall to get out of the car, pretend to have car trouble, and ask Timmy for help. Timmy refused and then ran when Randall took a step towards him. Parnell shouted at Randall to hurry and grab the boy, and Randall quickly chased Timmy down, pried the toddler's fingers from a chain link fence and threw him into the backseat of Parnell's car.
As they sped off, Randall gave the hysterical boy the juice mixed with sleeping pills and covered him with a blanket. According to The Oakland Tribune, once back at his house, Parnell paid Randall off and threatened him to keep quiet.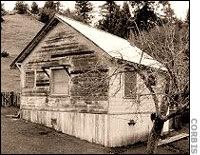 Parnell's cabin in Mendocino, where he kept Steven and Timmy
In the remote cabin in Mendocino County where he lived with Steven, Parnell repeated to Timmy the same lies he had told Steven seven years earlier about his parents not wanting him and telling the boy that he would be his new father. His first fatherly act was to dye Timmy's blonde hair a deep brown to mask the boy's resemblance to the picture on the "missing child" posters he knew would be coming soon.
Hero
Steven didn't know what to make of the addition of his new "little brother," although he later told reporters that he made the decision to get Timmy White back to his family "immediately after (Parnell) brought him home." This was an enormous risk, as Steven knew that Parnell would be furious. Additionally, Steven was convinced that after saving Timmy he shouldn't return to Parnell, but where else could a 14-year-old boy go?
In early 1980, Parnell was working the night shift in a hotel in Ukiah. Less than a month after Timmy's abduction, Steven took advantage of Parnell's absences and took the toddler out late at night, hoping to hitch a ride into Ukiah.
After a couple of failures, Steven struck gold on the night of March 1, as he and Timmy caught a ride from a passing truck.
Not wanting to go too near the hotel where Parnell was working, Steven asked to be dropped off in a residential area. At first, Timmy tried unsuccessfully to find his house, but after hours of wandering, Steven spotted a police station. He stopped on a nearby street corner and told Timmy to go into the station and tell the police who he was. Steven promised Timmy that he would be watching until the boy was safely inside.
A Ukiah policeman working the late shift that night looked up to see a small boy standing just outside the front doors of the station. Finding that unusual for that time of night, he approached the boy, who became frightened and ran away. Stepping out into the night, the policeman heard the sound of a child crying and then saw the small boy running towards a teenage boy waiting at a street corner.
The policeman went to investigate. After a short conversation, he brought both back to the station, where it was quickly determined that the toddler was the recently missing Timmy White, although the older boy was less forthcoming about his own identity.
Eventually "Dennis" told the police that he was actually Steven Stayner, and that he had been missing for about seven years.
The police were stunned. A kidnapped child showing up so long after their abduction, in apparently good health, was almost unheard of.
And due to the length of time he had been with Parnell, it took several policemen some time to convince Steven that Parnell's story about his parents giving him up and not wanting him was a lie. Steven finally agreed to let the police call his family in Merced.
And so it was the middle of the night that Kay and Del got the phone call they had long been praying for.
At first the Stayner family couldn't grasp what was happening: Steven was coming home!
Coming Home
The news traveled quickly and soon the Stayner house was flooded with hundreds of people who wanted to see if the news was true, to get more details, and to await Steven's homecoming on March 2.
The media soon inundated Merced and the Stayner home. Kay told reporters that she had always "expected" Steven to return at some point.
At Steven's first press conference after returning home (which Del reported was a mixture of jubilance and awkwardness), Steven was nervous and soft-spoken and stated that Parnell had treated him well and denied any sexual abuse. He said that while he felt sorry for Parnell (who was now in jail awaiting arraignment), he didn't ever want to see him again.
Upon his return home, little Timmy White said that he'd enjoyed his short time with Steven: the older boy had frequently played with him, watched him when Parnell was gone, and read comic books to him.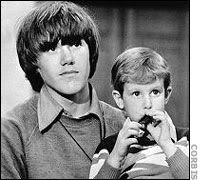 Steven Stayner with Timmy White
The news of Timmy's return, and Steven's courageous act and homecoming, ignited the local and national media and articles appeared in every major newspaper. Steven's first days back with his real family were marked by waves of incoming letters from all over including a poignant congratulatory card signed by many students of the Mendocino high school he'd been recently attending, who had known him only as "Dennis Parnell."
Steven's homecoming would not be without problems, however, as he had trouble transitioning from Parnell's lack of supervision and readily accessible drugs and cigarettes to the stricter Stayner household. A lawyer who knew Steven during this period told The Merced Sun-Star of Steven's "acting out" and "living dangerously," but described Steven at heart as a "nice young man."
Steven later described these same days to Newsweek: "I returned almost a grown man, and yet my parents saw me ... as their seven-year-old. [The family is] all emotionally strained."
And there were more tough times to come.
Trial
Parnell went to trial twice in 1981.
In June, he and Randall were brought to court to face the charges surrounding the abduction of Timmy White. The prosecution presented an especially strong case against Parnell, bringing Timmy, his family, and Steven to the witness stand. Steven told the jurors that his motivation for rescuing Timmy was that he didn't want what had happened to him to happen to Timmy.
The prosecution also brought to light the fact that Parnell had previously served jail time in the 1950s after he had been convicted of impersonating a policeman to abduct and sexually assault a young boy.
Parnell's defense countered with the tale that Parnell had been forced into abducting Timmy by another man, a drug-dealing kidnapper named Hank.
The jury didn't buy it. Parnell was convicted and sent to jail to await the start of the December trial for his crimes against Steven.
Steven Stayner testifies
At the second trial, Steven rescinded his earlier claim of not being sexually molested by Parnell and spent almost an entire day of testimony recounting the various abuses Parnell had committed. Throughout his testimony, Steven displayed remarkable calmness as he sat just a few feet away from Parnell. He later explained to Newsweek that during his testimony, as well as right after being reunited with his family, "[for] seven years I [had] built a wall around myself. If I [started to cry] I might not be able to stop."
The prosecution then brought other witnesses to the stand that recounted the various locations and neighborhoods where the "father and son" had lived during the seven years that Steven was "Dennis."
The defense did not have much to go on in the face of the prosecution's strong case, but did question whether the statute of limitations for Steven's kidnapping had run out, and wondered when or if Steven stopped being a kidnap victim and crossed into being a "willing" participant. Why, they asked, didn't he escape from Parnell earlier than 1980, especially since Steven had often been alone for long periods.
The jury deliberated for about 12 hours before finding Parnell guilty. The jury reportedly had quickly come to a decision about Parnell but had to deliberate longer to decide what to convict Murphy of, who had been tried along with Parnell for Steven's abduction. They were unsure if Murphy had completely understood the full scope of what Parnell had in mind on the day of Steven's kidnapping. They eventually found Murphy guilty of lesser charges.
With the trials over, Steven and Timmy could return to their homes and begin to live much more normal lives.
It may not have occurred to anyone that Parnell, too, would eventually return to what he considered his "normal" life and his twisted definition of "family."
Parnell Strikes Again
After the two trials, Kenneth Parnell served five years of a seven-year sentence, and was paroled in the city of Berkeley.
Decades passed and Parnell aged and became a near-invalid requiring visiting social workers and assistants for his daily needs.
In 2002 and in his 70s, Parnell's age and frailty did not prevent him from asking a caregiver to obtain a little African-American boy for him. Parnell offered the woman $500 for the service.
At first, the woman doubted that the old man was serious, but when she became convinced that he was, she went to the authorities.
On January 3, 2003, the caregiver arrived at Parnell's home and told him she had a little boy waiting in the car. Parnell gave her $100 for a forged birth certificate, and asked her to bring the boy inside.
Once she had walked away, police descended on Parnell and his house. They found the remaining $400 in Parnell's pockets, and found sex toys, assorted pornography, and toys for his new "son" inside his residence.
Parnell was quickly arrested and charged with soliciting a kidnapping, trying to steal a child, attempting to purchase a person.
Kenneth Parnell in court, 2004
In early 2004, Parnell's trial on those three charges began in Alameda County's Superior Court.
The prosecution stated that Parnell's attempt to purchase a young boy was a continuation of his earlier criminal behaviors. They brought witnesses to the stand such as the caregiver Parnell had asked to obtain the child, and then presented witnesses from his earlier crimes, including Steven's mother, Kay, and the now-grown Tim White.
White recalled the details of his abduction again, and, when leaving the courtroom, ran into another witness: the now-grown Randall, who had pried his small fingers from a chain link fence more than 20 years earlier in order to follow Parnell's desires to "expand his family."
The Oakland Tribune reported that the two men had not seen each other since Parnell and Randall's 1981 trial. After a brief exchange of quiet words in the hallway outside the courtroom, the two men embraced and Randall was heard to apologize repeatedly to White.
Parnell's defense team stated to the jury that Parnell merely wanted to provide a nice home to a disadvantaged young boy. The defense initially didn't want any mention of the earlier crimes against Steven or Timmy White to be mentioned, but the judge allowed it. The judge did rule in favor of the defense, however, when she stated that no mention of the sexual aspect of the crimes against Steven could be presented by the prosecution, as Parnell was not being charged with any sexual offenses.
The defense attempted to convince the jury that Parnell was now too old to be a threat to young children and pointed out that Parnell had never used the word "kidnap" in his conversations with the caregiver (although he had asked the caregiver to "get" him a child and admitted to her that it would be "risky").
After the prosecution and defense had presented their cases, the jury deliberated for approximately 90 minutes before finding Parnell guilty. Parnell reportedly showed no emotion as the verdict was read and he was quickly taken back to prison to await sentencing.
Legacy
One key witness missing from Parnell's 2004 trial was Steven Stayner himself. On an afternoon in September 1989, Steven was motorcycling home to his wife and two young children after a hard day's work. He may have briefly seen the car speed out of a driveway and onto the road in front of him, but he didn't have enough time to stop or swerve. Steven, who wasn't wearing a helmet, slammed into the car and was pronounced dead upon arrival at a local hospital.
But death could not stop Steven's remarkable story from living.
In the same year as his death, a TV movie based on his ordeal was broadcast (in which Steven himself made a "blink and you'll miss it" appearance as a policeman). It was nominated for several Emmy Awards.
During his life, Steven was active in telling school kids about the dangers of strangers and educating parents on how to protect their children.
In an interview with the Sun-Star, Steven said he would remain involved in the cause of missing children "to protect our children. [And] it also helps me deal with the seven years I was gone by allowing me to talk about it."
A Merced councilman later told the same newspaper that Steven had spoken often at local schools "to get the kids to understand why they had to be aware and what could happen."
Steven's story also was revisited briefly in the media in 1999, this time as a sidebar to the larger story of the conviction of his elder brother Cary for four murders in Yosemite Park.
More than 10 years after Steven's death, the City of Merced asked locals to suggest names for city parks to honor some of Merced's notable citizens. Steven's parents suggested that one of the parks be named in Steven's honor. His mother told the Sun-Star that it would be "a positive thing for kids" because her son had survived "an extraordinary experience and came through it OK."
The City Council initially agreed that Steven would receive the honor, but the Sun-Star soon reported that some locals were concerned that people now primarily associated the name "Stayner" with Cary, and not with Steven.
Over the ensuing months, supporters and opponents of naming the park for Steven debated in City Council meetings and in letters to the editor. Compromises such "Steven's Park" were suggested and rejected. Steven's children wrote a letter to the editor of the Sun-Star stating that their father was unquestionably worthy of the honor of being the park's namesake.
Eventually, however, the park was named after another Merced resident.
But supporters who wanted to pay tribute to Steven's memory were not deterred, and there is currently an effort to create a large statue portraying Steven leading a young Timmy White to safety to be installed in a prominent place in Merced.
Steven Stayner's legacy continues. His reappearance after seven years may give hope to families also traumatized by a missing child. Nobody knows how his community service of speaking to kids and parents may have prevented kidnappings similar to his own.
But his single act of bravery on a dark night in the early spring of 1980 will define the term "hero" for many years to come.