Her short life as a professional mistress was one of luxury paid by wealthy, Reagan confident, Alfred Bloomingdale. The department store heir and credit card magnate paid her handsomely for years to engage in all manner of kinky S&M sexcapades with groups of prostitutes. After Bloomingdale's death, things went downhill, culminating in her brutal bludgeoning death a year later.

Vicki Morgan
A Sexual Life
"Sex life" was a redundancy for Vicki Morgan.
Her life was sex.
Even as a willowy teenager, she exuded a sensuality that led men to dismiss reason and do things they shouldn't.
Vicki Morgan


Her first lover was a young man who left her pregnant at age 16.
This sort of thing was still a family scandal in 1968 in her hometown of Montclair, Calif., so Vicki was spirited away to St. Anne's, a Catholic maternity home for girls in Los Angeles.
St. Anne's, in Los Angeles


Her life was more than half gone by the time her son was born.
In her final, frantic 14 years, Morgan became a professional mistress-and a headline waiting to happen. If she was going to have sex anyway, she seemed to conclude, it might as well be with someone wealthy.
She bedded both men and women, including a movie star or two, a Moroccan king and a Saudi princess, according to accounts she gave to journalists, biographers and in a court deposition.
She wed three times, but marital status was irrelevant.
She was a fabulously promiscuous nymph of the swingin' '70s. She tried it all, from group lesbianism to S&M to more traditional heterosexual hedonism.
She rarely worked, yet she lived at some of the most luxurious addresses in Los Angeles.
Morgan blanched at the notion that she was a high-priced hooker.
But as one of her lovers put it, she lived a life "of guilty compromise, a dishonorable truce between money and conscience."
Amid her many romantic entanglements, Morgan for 12 years was the mistress of Alfred Bloomingdale, a scion of the department store family, founder of a groundbreaking credit card firm and a member of Ronald Reagan's "kitchen cabinet."
His wife, "Best-Dressed" Betsy Bloomingdale, was Nancy Reagan's closest friend.
The long-lived affair blew up into front-page headlines just months after Reagan was elected. With Alfred Bloomingdale on his deathbed with cancer, Mrs. Bloomingdale cut off Vicki Morgan's monthly love money.
She responded with a palimony suit that, even in those pre-tabloid days, kept the newspapers filled with blue prose and kinky details for months.
Inevitably, Morgan went out in another front-page ball of fire about a year after the scandal broke. She was murdered by a man who desired her, like everyone else.
A Model Teen
Morgan's parents, Delbert and Connie, met in Britain during World War II. Delbert Morgan was a lonely sergeant in the American Air Force, and Connie was a tall, thin native of Norfolk, England.
They married, and Delbert moved his new wife to Colorado Springs. They had two daughters, Barbara, born in 1946, and Victoria Lynn, born Aug. 9, 1952.
Delbert Morgan wasn't much of a father. He left his wife for another woman before Vickie could walk or talk.
Connie soon met and married Ralph Laney, a kind-hearted factory worker. In 1956, the family joined the American rush to southern California.
They bought a ranch house in the brand-new city of Montclair, amid the endless Los Angeles suburbs of the Inland Empire.
Connie and Ralph Laney had sons of their own before Ralph died of a heart attack in 1961. Connie, forced to find work, began a long career as a cafeteria worker in Montclair schools.
Vicki, 9 when Laney died, proved to be an indifferent student, and she participated in few school activities, according to biographers Joyce Milton and Ann Louise Bardach.
Vicki Morgan


But she was a pretty girl who grew to a coltish 5-foot-10. Everyone began saying that Vicki looked like a model, so Connie Laney scraped together tuition to the Studio Seven Academy, a charm school in Covina.
Vicki did a few modeling jobs at the local mall, Montclair Plaza, until the bulge in her belly got her sent away to the Catholic home.
Vicki, still just 16, gave birth on Jan. 7, 1969, to Todd Morgan. By and large, the boy's care and upbringing would fall on Vicki's mother.
Plush Digs
Earle Lamm nearly flipped his toupee the first time he saw Vicki.
It was just months after her child was born. She was working at a mall boutique, and he was a clothing wholesaler.
Lamm, originally from Chicago, was three times her age. He was born in the 1920s, but his sense of style was pure '70s: aviator glasses, gold chains, bell-bottoms, platform shoes, shirts open to his navel.
And that hairpiece.
Vicki would later claim she didn't notice Lamm's augmented hairdo until she woke up in his bed one morning and saw his shining pate beside her. Across the room, the artificial hair rested comfortably on an artificial head.
But Lamm's bed happened to be located at Sierra Towers, a gleaming 32-story high-rise on the Sunset Strip in West Hollywood.
The Sierra Towers


It was one of L.A.'s hippest addresses.
In the elevator, Vicki was liable to run into such resident celebrities as Joan Collins, Sidney Poitier, George Hamilton, Diahann Carroll or Peter Lawford. (The building still has cache today: Kate Moss, Cher, Lindsay Lohan and Matthew Perry are among current or recent residents.)
Within weeks of their meeting, Earle Lamm asked Vicki Morgan to be his bride. It must have blown her mind.
She was still shy of 17, and he was 47.
But consider her choices: She could stay at home with her mother and baby in sleepy Montclair, work at the mall and date penniless local rat finks like the one who knocked her up.
Or she could marry Lamm, quit her job and live in a fabulous apartment in a fabulous Los Angeles neighborhood.
She had tasted the high life, and she liked it.
She accepted his proposal, and they flew to Las Vegas, where they were married in a 5-minute ceremony at a 24-hour wedding chapel.
First Husband
Earle Lamm proved to be a sexual handful for his teen bride.
He was a swinger, and he enticed Vicki into joining him.
He had the Humbert Humbert problem-a lust for lithe little Lolitas. Vicki was tall but rather flat-chested, which appealed to him.
He dressed her up like a schoolgirl and took her out for sexual romps that included group gropes and lesbian threesomes.
Vicki went along to get along.
When she was a good bad girl, Lamm treated her sweetly and lavished her with gifts. She said he made her feel special, for the first time in her life.
But when she protested one of his sexual schemes, he could turn abusive.
Lamm was not crazy about Vicki's son, who interfered with his Lolita fantasy. The boy spent most of his time at his grandmother's, and this became a wedge in their relationship.
Vicki began going solo to nightclubs. One night he stalked her and caught her leaving a club with a young man. He beat her on the street while her new friend ran off.
The relationship became part of a pattern in her life.
The two biographies of Morgan refer to her various marriages as having been good "in the beginning."
The phrase referred not to years, but to months-or even weeks.
Vicki Morgan was the sort of person who lived her life in fast-forward. Intimate relationships came and went quickly.
Except for one.
Meeting Mr. Plastic
How does a newlywed teenager become the mistress of a middle-aged fat cat?
This is one of the curiosities of the relationship between Vicki Morgan and Alfred Bloomingdale.
Half a dozen versions of their first meeting have been conjured up, most by Vicki herself. The consistent detail is that they met in the vicinity of the Old World Restaurant, a prototype health food café on Sunset Boulevard.
Sunset Boulevard sign


In one account, Vicki said she was walking near the restaurant when Bloomingdale stopped her with a very peculiar pickup line.
"Excuse me," he said, "but you look like a tennis player. I have a daughter about your age, and she's looking for a tennis partner."
Vicki said she reluctantly gave him her phone number so Lisa Bloomingdale could call her for a tennis appointment.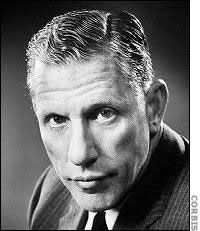 Alfred Bloomingdale


She claimed that as they were saying goodbye that day after a five-minute chat, Bloomingdale pressed into her palm a check for $8,000. He told her it was a spontaneous gift for a lovely girl who had brightened his day.
Vicki went home and showed the check to her husband.
Earle Lamm said the check was more likely a down payment on future favors from a dirty old man.
He was right.
Vicki never did hear from Lisa Bloomingdale. But Alfred began a telephone barrage, calling as often as 20 times a day for three weeks before she finally agreed to have lunch with him.
They met at the Old World. The affair was off and running.
Bloomie's Bucks
Alfred Bloomingdale probably wouldn't have flinched at giving an $8,000 good-faith payment to a prospective mistress.
His money was old, and he had lots of it.
His ancestors came to the United States and settled in New York well before the Civil War.
His grandfather, Lyman, founded Bloomingdale's department store, and Alfred was born into unimaginable wealth in 1916.
He was from German Jewish stock, but Alfred had hound dog in his blood.
His Uncle Sam ran the department store as Alfred was growing up because his father, Hiram, was busy chasing skirts.
Alfred grew to be a big, strong young man. He attended exclusive private schools in the city, including Riverdale Country Day School, then enrolled at Brown University, where he was a football lineman and fraternity bon vivant.
He dropped out before graduating and used family money to dabble in the theater business. For five years, while still in his 20s, Alfred plowed cash into a series of Broadway flops.
But he finally found success with song-and-dance revues, including "High Kickers" and a 1943 revival of the "Ziegfeld Follies" that starred Milton Berle.
Young Bloomingdale followed in his father's footsteps as a man about town. He married a showgirl in 1941, but it lasted about as long as a good cigar.
Like everyone in his family, Alfred was a loyal Tammany Hall Democrat, and he was a delegate to the Democratic National Convention in 1944.
He bought a home in Los Angeles after the war, hoping to adapt his Broadway experience to motion pictures.
It was in L.A. that Bloomingdale met Betsy Newling, the daughter of a dentist with high-society aspirations. Alfred fell for her, and they were married in a Roman Catholic ceremony in 1946.
Betsy Newling Bloomingdale


The couple bought a mansion in Bel Air and started a family that would eventually include three children-not including Vicki Morgan.
Diner's Club
In 1950, Bloomingdale was persuaded to invest in the personal credit business, a new concept gaining ground among the wealthy of the world.
Carrying cash could be a burden. Why not sign for the charge, as one might at a hotel dining room or a private club?
He founded Dine and Sign, then cobbled together 22 Manhattan restaurants that agreed to accept payment in plastic.
His firm soon merged with another credit card startup, Diners Club, and Bloomingdale spent the next 20 years building the business, eventually introducing his card in 130 countries. He became known as the father of the credit card when he predicted that cash would some day become obsolete.
But the Diners Club name positioned it as a niche card, for use in restaurants. The firm had difficulty keeping up with American Express and other cards used for more broad purchases.
In 1969, Bloomingdale stepped aside as chairman of Diners Club.
At that point he had more money than he could ever spend. And retirement gave him ample time for new pursuits, including a certain honey-blond teenager.
Kinky Sex
Bloomingdale was known as a blunt, aggressive businessman, and he wasted no time telling Vicki what was expected of her.
Alfred arrived with a hooker named Samantha at their second Old World lunch. After they finished alfalfa-sprout salads, the threesome drove to a modest house on Sunset Plaza Drive.
En route, Samantha prepared Vicki with a girl-to-girl talk about Bloomingdale's "special needs" in the bedroom. He got off watching lesbian S&M sex, and he often joined in with whips and belts.
"He won't hurt you much," she said.
Vicki shrugged. She was sexually shock-proof after a few months with Earle Lamm.
Bloomingdale, Vicki and Samantha were greeted at the house by Mistress Kay, a rather brawny woman in black leather who lived there as a dominatrix-in-waiting.
In no time, Vicki was naked and trussed.
Throughout a long afternoon, the women exchanged roles-sadist, masochist, innocent victim, dominating oppressor-under the direction of Master Alfred's kinky baton.
Years later, Vicki would recall Alfred's stone-cold pillow talk after the session ended: "C'mon, let's go take a shower."
XXX Times a Week
Bloomingdale, at age 53, found the lust of his life in young Vicki Morgan.
They scheduled S&M romps at the Sunset Plaza house at least three times a week, but even that wasn't enough.
One problem: She lived with her husband. So Bloomingdale made a move of remarkable hubris, phoning Earle Lamm to offer to buy Vicki away from him.
Lamm visited a lawyer to discuss an alienation of affection lawsuit. But in the end he acquiesced to Bloomingdale. If there was an exchange of money, it was never made public.
Bloomingdale first placed Vicki in a luxury apartment in West Hollywood and later in a mini-mansion in the Hollywood Hills.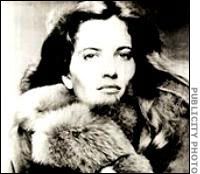 Vicki Morgan


For a time after Lamm was banished, Alfred and Vicki continued their S&M sessions with Mistress Kay on Sunset Plaza.
But Vicki informed Alfred that she did not find Mistress Kay sexually appealing. So Alfred turned over his little black book of hookers, and Vicki took control of their sexual planning, weeding out those she didn't like.
She said Bloomingdale paid as much as $2,500 each to prostitutes for S&M sessions. She later told a biographer that she hired 15 hookers for his 54th birthday, on April 15, 1970.
Vicki apparently was not as enthusiastic as Alfred about S&M. Together and separately, they took therapy with Dr. J. Victor Monke, L.A.'s analyst to the stars.
He diagnosed the millionaire with "Marquis de Sade Syndrome," and she later said she worked diligently to break him of his sexual kinks-the 15-hooker birthday present notwithstanding.
Money & Power
Any photograph makes it clear what Bloomingdale saw in Vicki Morgan.
But what did she see in him?
Yes, he was rich. But middle-age paunch had settled in, and his bold features were not particularly handsome.
Certainly, Vicki would have been impressed by his power and status. But she would later say that Bloomingdale treated her well. He did not condescend to her, treating her as an intellectual equal.
He flattered her with praise and bought gifts without being asked-including tuition to the Lee Strasburg Institute, the famed acting school.
Vicki was also awed by Bloomingdale's energy as he jetted back and forth across the continent to monitor his various businesses and homes.
Vicki began to travel with him-to New York, Washington, even Europe. They often spent time in Fort Lauderdale, where he was developing a resort, and at La Costa, the exclusive country club near San Diego.
She was paid well for her time and provided with a beautiful home, a Mercedes and housekeepers. Her monthly "allowance" steadily increased, from $1,000 to $5,000 to $10,000.
Vicki began to regard herself as wealthy, not merely the kept woman of a wealthy man.
She dined at fine restaurants, shopped on Rodeo Drive and became a customer at Ménage a Trois, L.A.'s most chic hair salon, even though she knew that Betsy Bloomingdale traveled in that same small orbit.
One day in 1973, Vicki and Alfred were canoodling in his car outside the salon when Betsy walked by and caught them.
To allay divorce, Bloomingdale promised to end the relationship. Betsy began keeping close tabs on his travel and expenses, and Vicki Morgan suddenly found herself without a sugar daddy.
The party was over, but Vicki was not the sort of mistress to slink away quietly.
She filed a lawsuit, claiming Bloomingdale had breached their oral contract promising support. The case went nowhere, but the modest publicity the lawsuit received added public humiliation to Betsy's private rage.
Swingin' '70s
Vicki spent the 1970s in bed-with Alfred, when he managed to sneak away from Betsy, and with sundry others when he did not.
Her life changed when the monthly checks from Bloomingdale ceased. She was forced to move to more austere accommodations, and she took a series of roommates, many of them gay men, to help pay expenses.
She got breast implants, believing this would make her more marketable as a model in the event that she had to earn a living.
She also began to consume increased amounts of drugs, including cocaine, Valium and Quaaludes.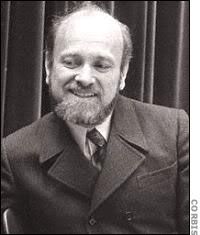 Bernie Cornfield


In 1974, she spent time at Grayhall, the Beverly Hills mansion of Bernie Cornfield, the rich businessman and enthusiastic hedonist. Grayhall was said to rival Hugh Hefner's Playboy Mansion for unrestrained pleasures of the flesh.
Grayhall


In 1975, she surprised her friends by marrying a handsome young actor, John David Carson-her first serious relationship with someone of her own age.
The following year, Vicki was summoned to Morocco for a mysterious offer of a modeling job. She later said it was a ruse to get her into bed with the Moroccan ruler, King Hassan II.
King Hassan II


It was a classic Vicki Morgan story-like the happenstance meeting with Alfred Bloomingdale and the $8,000 check.
No one could explain how and why she had caught the eye of Hassan. But she said she traveled to Morocco twice on sexual assignment and was rewarded with $25,000 and the services of a "maid for life."
The maid, named Fatima, showed up at the Vicki's door just as John David Carson was walking out.
At about the same time, Vicki claimed she spent nine months as Cary Grant's lover. It was another Vicki classic: She couldn't prove it happened, but no one could prove it didn't.
Alfred's Back
When Carson left, Alfred reasserted himself in Vicki's life. She set two conditions: no more hookers and no more group sex. Alfred agreed and set her up in a house near Stone Canyon Reservoir, where she lived for most of a year with her son, Todd.
But in 1978 she managed to squeeze in a third marriage, to Robert Shulman, a wealthy real estate developer.
They were old friends and lovers from Cornfield's Grayhall. They bumped into one another at Christmastime and impetuously decided to fly to Las Vegas and get married that same night.
But Shulman learned that a healthy relationship with Vicki was impossible with the specter of Alfred Bloomingdale looming.
Bloomingdale offered to buy Shulman out of the marriage for $1 million. Aghast, Shulman walked away, and Bloomingdale won Vicki back by default.
Alfred Bloomingdale, younger


In the language of self-help, Alfred and Vicki seemed to be codependency prototypes. He reinserted himself into her life each time she seemed prepared to break away. And she was always willing to open the door to him, the consummate enabler.
The hold she had on him was made obvious by the one love note Alfred wrote to Vicki, during the Shulman drama. A very needy Bloomingdale implored her to join him for a getaway tryst in San Diego:
Dearest Vick:
I planned and fought for this trip for weeks against all odds....It was so we could be together and straighten out a few things. This trip is the most important thing in my life at this time. I only live for you...I'm old and I need you. I will come by tomorrow at 10:00...Don't disappoint me. I love you and it's our only chance to be together for any length of time. Last week I only saw you about 1 hour all told. It's always a rush. It's my fault but please forgive me. And forgive me for yesterday. I'll explain more in La Costa. Please, please love me and go with me.
I love you,
Alfred
PS: This is the 1st letter I've written in 25 years.
Princess & Pancoast
After yet another reconciliation with Alfred, Vicki Morgan made a temporary detour to what may have been her most peculiar romance.
She had become acquainted with a Saudi princess through her "maid-for-life," Fatima, who also worked at the princess' Beverly Hills mansion.
Princess Jawaher bint Saud, known as J, was the gay daughter of King Faisal, the Saudi monarch who was assassinated in 1975.
Vicki told biographers that J seemed to feel an immediate attraction to her the first time they met-like Bloomingdale and so many others.
They carried on an affair that culminated with a cruise to Hawaii aboard a luxury yacht. Vicki described the trip as a sex-and-drugs bacchanal.
The partying got so out of hand that the prudish captain of the leased ship ended the cruise prematurely.
Vicki was a wreck when she returned home, and friends convinced her to take a timeout after a decade of decadence.
In October 1979, she checked into the Thalians Community Mental Health Center at Cedars-Sinai Hospital in Beverly Hills. She was diagnosed with drug dependency and depression.
At Thalians she was befriended by another patient, a gay, 29-year-old native Californian. He suffered from various mental pathologies, including schizophrenia. He had attempted suicide at least twice, and he had developed a dangerous habit of having anonymous sex in washrooms or wherever.
A college dropout, the man had spent 10 years doing menial work in public relations and talent agencies.
He had delusions of grandeur. While working at the William Morris Agency, he stole the home phone numbers of scores of celebrity clients and created a fantasy world in which famous people were his close friends.
Doctors at Thalians judged that the man was good for Vickie Morgan, and vice versa. They cheered one another up. They became new best friends.
But the doctors were wrong.
The man's name was Marvin Pancoast. A couple of years later, he would murder his new best friend.
Political Rise & Fall
As his mistress was trying to restore equilibrium to her life, Alfred Bloomingdale was enjoying a heady new role as a friend of Ronald Reagan.
The Bloomingdales, who had gone Republican in the mid-1960s, met the Reagans through mutual friends. Nancy Reagan and Betsy became best friends, and the Bloomingdales had supported Reagan's political ascendancy.
After Reagan was elected president, Bloomingdale joined a handful of other business magnates in his "kitchen cabinet," a circle of advisors who helped frame the early years of the neo-conservative era.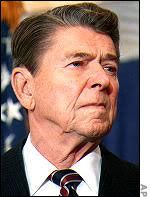 President Ronald Reagan


Reagan named Bloomingdale to the Foreign Intelligence Advisory Board and to the Advisory Commission on Public Diplomacy. The Bloomingdales stayed at the White House often during Reagan's first months in office, and they accompanied Nancy to the wedding of Prince Charles and Diana in July 1981.
But Alfred Bloomingdale would have little time to enjoy his new status.
Days after Alfred's return from England, nagging discomfort in his throat was diagnosed as throat cancer. His prognosis was bleak.
Alfred resolved to maintain a relationship with Vicki. She visited him at the hospital, and the lovers managed occasional meetings between treatments.
He had renewed his support of his mistress at some point before the diagnosis, paying as much as $18,000 a month.
Out of guilt or love, he made an extraordinary decision on Feb. 12, 1982. He dictated two letters that spelled out continued support for Vicki "in the event of my incapacitation or absence."
One letter specified that Vicki should receive 50 percent of Alfred's interest in a Showbiz Pizza deal that was in the works. The other promised her monthly payments of $10,000 for two years.
It was a brave move in that the letters amounted to Bloomingdale's public acknowledgement of his long affair with Vicki.
But the letters would also further humiliate Betsy Bloomingdale. With this evidence, she couldn't deny that her husband had a lover.
Palimony Lawsuit
As Alfred lay dying, Betsy Bloomingdale learned of his monthly $10,000 payments to Vicki and the letters promising future support.
Betsy stopped the payments in June 1982, and she cancelled the Showbiz Pizza deal that would have benefited the mistress.
Marvin Mitchelson


Vicki visited Marvin Mitchelson, California's famous palimony attorney, and on July 8, 1982, she filed a $5 million breach-of-contract suit against Alfred.
Had Bloomingdale been a mere fat cat, the scandal might have been confined to the tabloid gossip columns in New York and Los Angeles. But his new status as a First Friend propelled the story to the news pages of the nation's most buttoned-down publications.
A New York Times headline was typical: "Friend of Reagans Is Named In $5 Million Suit for Support." Added Time magazine, "The tawdry tale has proved a minor embarrassment for the White House."
The story was made even sexier by a 234-page deposition by Vicki Morgan that included details of Bloomingdale's S&M issues.
Betsy Bloomingdale admitted the affair but characterized Vicki Morgan as a well-compensated prostitute who was due no future support.
On Aug. 23, Alfred Bloomingdale died at age 66, leaving his wife and children to clean up the mess he left behind.
And what a mess it was.
A few days after the funeral, Vicki-apparently inspired by narcotics-telephoned a Los Angeles newspaper to disparage Bloomingdale's widow.
"She buried him...like a dog," Vicki Morgan said. "This woman only thinks of one person...Betsy, Betsy, Betsy."
Her Roommate
On Sept. 26, Judge Christian Markey dismissed Vicki Morgan's lawsuit, writing that she was "no more than a well-paid mistress." He said any agreement between them was invalid because it involved sex for hire.
Vicki was devastated-and busted.
To help pay the rent, she had taken a new roommate, her friend Marvin Pancoast from the Cedars-Sinai mental health center.
They moved together from luxury digs that Alfred had rented in Beverly Hills to a decidedly downscale condo on Colfax Avenue in Studio City.
The condo that Vicki and Marvin moved into in Studio City


The two had a complicated relationship.
Pancoast, 29, was an emotional masochist, and Vicki was happy to oblige with abuse. She treated him like a servant, even though Pancoast, who had a wealthy mother, was paying most of the bills.
But the star-struck Pancoast admired his roommate's proximity to the rich and famous. He kept a scrapbook of clippings about her Bloomingdale lawsuit.
And although he was gay, Pancoast developed a deep affection for Vicki. She thoughtlessly paraded a procession of lovers through their condo, including both men and women. (One of her sexual partners was a writer named Gordon Basichis, who was supposed to be ghostwriting her memoirs.)
Gordon Basichis


Pancoast, with a history of mental illness dating to his adolescence, probably did not have the constitution to survive such an atmosphere.
He finally cracked in the summer of 1983.
The Murder
Vicki and Marvin were being evicted for nonpayment of rent from the Studio City condo. She left it up to him to find a new place for them to live, then rejected each of his suggestions with a dismissive wave of her hand.
As eviction day approached, Vicki could not be bothered with packing. Pancoast did that, too.
Even when her mother, Connie Laney, showed up with a friend to help on the evening before eviction day, Vicki lay in bed, refusing to lift a finger while Pancoast and the women worked.
Late that night, after her mother left, Vicki ranted at Marvin for failing to find them a place to live.
Pancoast was exhausted and overwhelmed.
After Vicki went back to bed, he found himself rifling through boxes piled in the garage until he came upon a wooden baseball bat.
Sometime after midnight on July 7, 1983, Pancoast pushed open the door to Vicki Morgan's bedroom and beat her to death with the bat.
Vicki Morgan's impossibly complicated life ended one month and two days before her 31st birthday.
After the murder, Pancoast went for a walk, turning up at the North Hollywood police station at 3:20 a.m.
He approached the desk officer, Keith Wong, and said, "I just killed someone."
The Aftermath
In his various confessions, Pancoast said Vicki treated him like a "little slave boy" with incessant demands and criticisms.
"I couldn't take it anymore," he said. "I just had to shut her up."
The murder allowed the media to reprise the Bloomingdale sex saga.
Marvin Pancoast in court


Robert Steinberg, one of Pancoast's lawyers, managed to ratchet up the sensationalism by claiming that Vicki's personal affects included videotapes of sex parties attended by men at the highest levels of American politics.
Steinberg said he had viewed portions of the tapes and had them in his possession. But when the media and authorities began pressing for proof, Steinberg announced that tapes had been stolen.
In end, that tangent of the scandal evaporated. The sex tapes were dismissed as a hoax, and Steinberg was charged with making a false report.
Pancoast's guilt, meanwhile, was a foregone conclusion. His sanity was not.
Under California law, the issues were considered separately.
A jury convicted him of murder nearly a year to the day after he beat Morgan to death. In something of a surprise, it then ruled-after four additional days of deliberations-that he was sane when he killed his roommate.
Pancoast was sentenced to 26 years in prison. But he would serve only a fraction of that. He died of AIDS in a prison infirmary in 1991.
Not long after the conviction, a California jury awarded $200,000 to Vicki Morgan's estate. Her lawyer and longtime friend, Michael Dave, had pressed an appeal of the dismissal of her breach-of-contract lawsuit.
The money went to Vicki's son, Todd Morgan, now 37, who is believed to be living in Southern California.
Betsy Bloomingdale


The lawsuit award did not cramp "Best-Dressed" Betsy Bloomingdale's lifestyle. She still lives in the Bel Air mansion, where she dotes on her grandchildren. She is still a leading society doyenne in Los Angeles. And she is still Nancy Reagan's best friend.
Resources
Books
Justice, Dominick Dunne
Vicki, Joyce Milton and Ann Louise Bardach
Beautiful Bad Girl, Gordon Basichis
News Media
"Woman Files Palimony Suit Against Bloomingdale Scion," by Myrna Oliver, Los Angeles Times, July 9, 1982
"Alfred Bloomingdale, Diners' Club Developer, Dies," by David W. Dunlap, New York Times, Aug. 24, 1982
"Bloomingdale's Sexual Habits Related," by Myrna Oliver, Los Angeles Times, Sept. 28, 1982
"Judge Throws Out Bulk of Bloomingdale Lawsuit," by Myrna Oliver, Los Angeles Times, Sept. 29, 1982
"Was It for Love or Money?" Time Magazine, Oct. 4, 1982"Bloomingdale's Ex-Mistress Found Beaten to Death With Baseball Bat," by David Johnston, Los Angeles Times, July 8, 1983
"Film Shows Reagan Aides in Sex Acts, Lawyer Claims," by Ted Thackrey Jr., Los Angeles Times, July 12, 1983
"Many Tapes Reported Found In Vicki Morgan's Apartment," UPI, July 29, 1983
"Suspect Pleads Insanity in Vicki Morgan Slaying," AP, Aug. 13, 1983
"Sex Tapes Just a 'Fantasy,' Jury Charges," by Ted Rohrlich, Los Angeles Times, Aug. 25, 1983
"Lawyer Pleads Innocent on 'Sex Tapes' Charge," by Ted Rohrlich, Los Angeles Times, Sept. 17, 1983
"Pancoast Goes on Trial for Vicki Morgan Slaying," James W. Stewart, Los Angeles Times, June 12, 1984
"Jurors Pray for Pancoast as They Decide He's Sane," by Jerry Belcher, Los Angeles Times, July 25, 1984
Murderer of California Model Gets 26-Year Prison Sentence," UPI, Sept. 17, 1984
"Estate of Mistress Wins Suit," AP, December 22, 1984
"Killer of Bloomingdale's Mistress Dies in Prison," Los Angeles Times, Dec. 5, 1991