The SEX Slave Murders - Gerald & Charlene Gallego
HE WAS THE HUNTER SHE WAS THE BAIT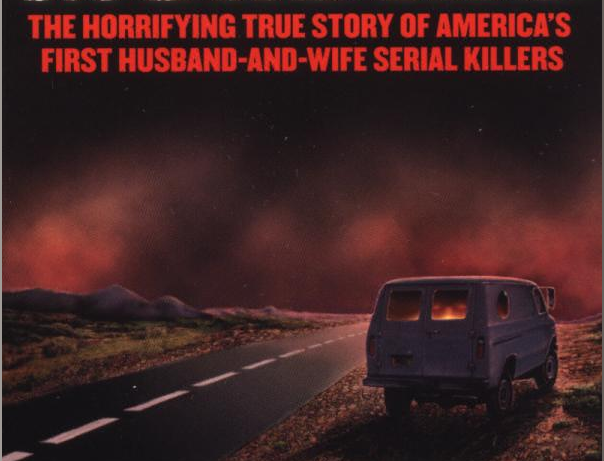 Gerald and Charlene kidnapped and killed ten people, mostly teenage girls, lured and captured in well-planned schemes, the ultimate goal of which was to provide a steady procession of disposable "love slaves." Depending on whose story you believe, Charlene Gallego was either a reluctant facilitator of, or a willing participant in her husband Gerald's tragic extended binge. After the couple's apprehension, Charlene claimed that Gerald had beaten and intimidated her into helping him, but Gerald, for his part, insisted that she had taken part in the assaults and killings. "We had this sexual fantasy see, so we just carried it out," Charlene later recounted chillingly. "I mean, like it was easy and fun and we really enjoyed it, so why shouldn't we do it?"


Killer Couples

Gerald & Charlene
We have a few stock images that spring to mind when we think of serial killers. Maybe we see, when we're inclined to think of such things, a Jeffrey Dahmer-type character-quietly savage, a misfit loner who practices his unspeakable avocation under society's radar. Or maybe Ted Bundy is our archetype-a conscienceless charmer who leaves mutilated bodies as his peculiar calling card. We probably do not, however, associate married couples with our notions of serial killing.
But the fact is that couples do commit serial murders, and quite efficiently indeed. Though such murders have not been common enough to entrench themselves in the public psyche, they have occurred with some regularity over at least the past thirty years. Probably the most lurid of these cases is that of Paul and Karla Bernardo, an attractive young Canadian couple who, in the early nineties, gleefully kidnapped, drugged, raped and/or killed a number of women and carefully captured many of their perverse exploits on video tape. The furor over the Bernardo arrests and Paul Bernardo's subsequent trial coincided roughly with shocking revelations coming out of Gloucester, England regarding Fred and Rosemary West. Over many years the Wests murdered several women and girls, including some of their own children, and buried the bodies in various locations in their house, garage and garden. Also in England, Ian Brady and Myra Hindley worked as a serial killer team preying upon children.
A strictly American couple was the Sunset Strip Killer Doug Clark and his girlfriend Carol Bundy, a Los Angeles strain of the same psychopathic syndrome. And even before the sensational cases of the nineties, killer couples were at work. Alvin and Judith Ann Neelley of Georgia, had they not been quite so inept, probably would have taken a greater toll than the thirteen-year-old girl and the woman they kidnapped, raped and killed in late 1982. At least as high a toll as that exacted by Gerald and Charlene Gallego. In the late seventies, the Sacramento, California couple kidnapped and killed ten people. Most of their victims were teenage girls, lured and captured in well-planned schemes, the ultimate goal of which was to provide a steady procession of disposable "love slaves." Depending on whose story you believe, Charlene Gallego was either a reluctant facilitator of, or a willing participant in her husband Gerald's tragic extended binge. After the couple's apprehension, Charlene claimed that Gerald had beaten and intimidated her into helping him, but Gerald, for his part, insisted that she had taken part in the assaults and killings. "We had this sexual fantasy see, so we just carried it out," Charlene later recounted chillingly. "I mean, like it was easy and fun and we really enjoyed it, so why shouldn't we do it?"
Gerald & Charlene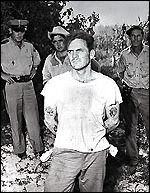 Gerald Albert Gallego, under arrest by Mississippi police

Gerald Armond Gallego's criminal pedigree was flawless. He was born in 1946 while his father, whom he would never meet, did time in San Quentin. Upon his parole, the elder Gallego resumed his criminal activity and was returned to prison. When he was next paroled he fled California, eventually landing in Mississippi where he, in two separate incidents, killed two police officers. In 1955, Gerald Albert Gallego received the dubious distinction of being the first man executed in Mississippi's new gas chamber.
Little Gerald's mother was no stranger to the lawless life either, having been raised in an extended family that included murderers and child molesters. Lorraine Pullen Bennett Gallego was a prostitute in Sacramento's skid row, and her boy Gerald served as a runner for various pimps during the 1950s.
By contrast, Charlene Gallego's upbringing was a fairy tale. She was born Charlene Williams in 1956 to Charles and Mercedes Williams. Charles Williams had worked his way up in the grocery business, advancing from supermarket butcher to an executive position with a national grocery chain. Charlene was an only child and grew up in Arden Park, an upper-middle-class area of Sacramento. She was gifted and talented, with a 160 IQ and a prodigious talent for the violin. It was not until she started high school that predilections for alcohol, drugs and sex revealed themselves in her character. She barely graduated high school, failed out of college, and was a veteran of two short, failed marriages, all in rather short order. Still, millions of girls had preceded Charlene in the grand tradition of teenage rebellion and its related disastrous decisions without descending into sexual sadism. As far as anyone could tell, she was just a very troubled and spoiled girl.
For his part, Gerald Gallego followed his own tradition of rebellion and disaster. His run-ins with police began when he was six years old, and by the time he met Charlene in 1977, he had been arrested at least twenty-three times and had served time at the Fred C. Nelles School for Boys, the Preston School of Industry, the Deuel Vocational Institution, and the Vacaville Medical Facility, as well as various city and county jails. He had also accumulated a rather large collection of ex-wives, having married and divorced five times. Whatever failings he may have had, Gallego was irresistibly attractive to some women. Among those women was his future wife and partner in crime, Charlene.
Gerald and Charlene met at a seedy poker bar in Sacramento in September 1977. "I thought he was a very nice, clean-cut fellow," Charlene said years later. For his part, Gerald found her small stature and blonde hair quite fetching. Within days he sent her a dozen roses with a card that read, "to a very sweet girl." They were living together within a few weeks, and Gerald laid down the law immediately. Charlene was to be the primary breadwinner, turning over her earnings from clerking at a supermarket to him. He told her what clothes to wear, and made no secret of his affairs with other women. Still, Charlene found him exciting, much more dynamic than her two previous husbands, and when he spoke of his fantasy of having young, disposable sex slaves the idea sounded darkly intriguing.
Kippi & Rhonda
On September 11, 1978 Gerald was ready. He awoke Charlene (who was two months pregnant and suffering from morning sickness) and told her he had plans that she was to help him execute. They drove in their 1973 Dodge conversion van (with mountains air-brushed on the sides) to Sacramento's Country Club Plaza shopping center, where Gerald gave Charlene her assignment: she was to locate two suitable sex slaves and lure them out to the parking lot and into the van. She was hesitant at first, afraid that she'd be unsuccessful, or worse, be caught. Gerald told her she was taking too long, and if she knew what was good for her she'd do what he said. She redoubled her efforts, and before long had zeroed in on two prime candidates. Rhonda Scheffler, seventeen, and Kippi Vaught, sixteen, were out for an afternoon of shopping and whatever fun they could scare up. When Charlene (who looked about their age) approached them asking if they'd like to smoke some pot, it sounded like just the adventure they were looking for. They followed her eagerly out to the parking lot, where she opened the van. Inside Gerald waited with a .25 caliber pistol. The girls were surprised, afraid, and easily subdued. Gerald bound them with tape and told Charlene to watch them while he drove.
They headed east on I-80 toward the Sierra Nevada Mountains. At Baxter, California they left the interstate and Gerald steered them further away from civilization and into the foothills. After finding a suitable spot, he left the van with the girls, the gun, and a sleeping bag, telling Charlene to wait. When he returned hours later he told her to take the van into Sacramento and visit friends in order to establish an alibi. Then she was to drop off the van and return in their Oldsmobile.
Charlene did as she was told, and when she returned to the woods outside Baxter Gerald ordered the girls into the back seat of the Oldsmobile. He sat with them and directed Charlene, who drove until he said to stop. Along the way he talked as if he would presently release the captives, but when he finally ordered Charlene to pull over he ordered the girls out, knocked them unconscious with a tire iron, and shot them.
Brenda & Sandra
Gerald and Charlene, having married quickly in Reno, decided to leave California for a while until the heat from the murder investigation diminished. Rather than see their daughter and their good name disgraced by Gerald's apprehension, Charles and Mercedes Williams stepped in to assist. They instructed Charlene to steal her cousin's birth certificate, and with that Gerald obtained a driver's license and other documentation in the name of Stephen Robert Feil. Then Charles Williams used his business pull to get Gerald a job driving a truck for a supermarket in Houston. The job, however, did not suit Gerald, and he and Charlene were in Reno by the following spring.
For a while things were relatively normal. Gerald worked for a time as a driver for a meat distributor, while Charlene worked in the office of another distributor. But by June Gerald had again left his job, and in his restlessness he had begun formulating a new plan. He wanted new sex slaves, and the best place to get them, he figured, was the Washoe County Fair.
Fourteen-year-old Brenda Judd and thirteen-year-old Sandra Colley were almost out of the fairgrounds and on their way home when Charlene stopped them. She needed help distributing advertising leaflets in the parking lot, she said, and would they be interested in earning a few extra dollars? When the girls agreed, Charlene said she needed to get more leaflets from her van and led the way through the lot. The three got into the van, and Gerald, who had been watching and following Charlene from a distance, arrived a moment later. Brandishing a gun, Gerald bound the girls and headed for I-80. On the way to the highway, he stopped at a hardware store, returning to the van with a hammer and a shovel.
Gerald drove east on I-80 for a while, then headed into the hills toward Mustang. After a while he told Charlene to drive, while he got into the back of the van and assaulted the girls. He took his time, and Charlene kept driving further into the Nevada hills. Eventually, telling Charlene she drove too fast, Gerald took the wheel again. When he stopped, he took the girls away from the van one at a time, using his new tools to kill and bury them.
Charlene cleaned out the van when they returned to Reno the next morning, but Gerald decided to keep his hammer and shovel. Meanwhile, though Brenda and Sandra had been reported missing, there was some confusion regarding two other girls who had run away to join the carnival company that ran the midway rides for the fair. Even when that was cleared up, the investigation into their disappearance didn't get far. Feeling reasonably safe, Gerald and Charlene left Reno to return to Sacramento within a couple of months.
Stacey & Karen
Things settled down. Gerald found new sexual intrigue with another woman, and Charlene was relieved that his demands on her and their accompanying frustrations (Gerald was often impotent when attempting normal intercourse) had lessened. But in time, the novelty of his new conquest wore off and Gerald was again seeking excitement. It was time, he told Charlene, for more love slaves.
April 24, 1980 found Gerald and Charlene eyeing the crowds of teenagers in the parking lot of Tower Records in Sacramento. Seeing too many cops mixed in for their liking, they moved on to the Sunrise Mall in Citrus Heights, about 20 minutes outside Sacramento. They'd had good luck at a mall with their first victims, they reasoned, so why not try again?
Stacey Ann Redican and Karen Twiggs, both seventeen, were worldly girls, but not wise enough to realize that the offer Charlene made to them of free drugs and a ride in a cool van would lead to their deaths. Even as Gerald pointed his .357 Magnum at them and ordered Charlene to drive they seemed more inquisitive than frightened, as if they thought the situation was some sort of grown-up game they should play along with. Presently, though, reality sank in-this was no game. As Charlene headed east on I-80 Gerald crawled in the back of the van and raped them repeatedly. Every so often, he paused to shout some directions to Charlene, and after a while they ended up at Limerick Canyon near Lovelock. As he had done before, he walked the girls away from the van one at a time and dispatched them with a hammer. This time, though, Charlene wouldn't let him keep his weapon; she flung the hammer out the van window on the way back to Sacramento.
Charlene, who had had an abortion the previous year, realized that she was once again pregnant. She steeled herself for Gerald's reaction, expecting the worst, and was shocked when he seemed rather pleased. The idea of creating life fed his enormous ego, and besides, domesticity provided an excellent cover for his true depravity. He even went as far as marrying Charlene again, this time using his Stephen Robert Feil alias. Feeling that his new marriage helped to cement his new identity and further obfuscate his old one, Gerald breathed easy.
And he began to take risks.
Linda & Virginia
The Gallegos, now living as the Feils, were on a small vacation in Oregon when they spied their next victim. It was June 7, 1980, and Linda Aguilar wasn't Gerald's type-she was 21, had dark hair and eyes, and was pregnant. But when he saw her walking beside the highway, he decided he had to have her. He slowed the van and asked Linda if she needed a ride. Linda, on her way home from a local store, accepted. Charlene knew the routine by now-presently Gerry ordered her to drive and began his sexual assault. In a while they stopped, and Charlene wandered about in the woods, killing time until Gerry was ready to go. When he found a spot he felt was suitably isolated, he took Linda away from the van, striking her with a rock, then strangling her.
Authorities first believed Linda Aguilar, who was known as something of a free spirit, had merely wandered off. But as the days passed suspicion mounted, and when her body was found later that month, police suspected her boyfriend of the killing. Even though one witness reported seeing a pregnant woman getting into a van the day of Linda's disappearance, the circumstantial evidence against the boyfriend weighed more heavily in the minds of the police. He had beaten Linda before, and it seemed he would be charged with her murder soon.
Gerald was getting bolder and more impatient. It was only a month and a half before he was ready to strike again. He and Charlene spent the day of July 16, 1980 drinking themselves silly, then spent the evening doing even more drinking a the Sail Inn, a bar in West Sacramento. Gerald was belligerent and boastful that night, and seemed to pay no special attention to Virginia Mochel, the bartender. When closing time came, though, he told Charlene he wasn't ready to leave. They waited in the parking lot, and when Virginia came out after locking up the bar Gerald forced her into the van with his .357. But this time, instead of heading out into the countryside, he drove the van home. Charlene waited inside watching television, and when he was finished with raping Virginia, Gerald told Charlene to get in the van. He made her drive, and while she did, he strangled Virginia. They dumped the body outside Clarksburg. The next day Gerald celebrated his thirty-fourth birthday with unseemly glee.
Virginia Mochel had two small children and was not the itinerant sort, so police took her disappearance seriously. Patrons of the Sail Inn reported that two strangers, a man named Stephen and his girlfriend Charlene, had come into the bar that night. Police tracked Gerald down at his new bartending job, and he admitted he'd been at the Sail Inn that night. He knew nothing of what had become of Virginia Mochel, however. Charlene gave similar answers, and told police offhandedly that she and her boyfriend had been fishing that day. When Virginia's body was found, her hands were bound with fishing line, which raised detectives' suspicions, but didn't offer anything concrete against the couple. The investigation ground to a halt.
Mary Beth & Craig
Meanwhile, Gerald and Charlene were coming unglued. Gerald, who had always been quick to use his fists with Charlene, became even more violent. In September, Charlene moved out, returning to live with her parents. Gerald left town for a bit, rekindling a previous romance. But by November he had returned and Charlene agreed to see him again. On the night of November 1, they borrowed Charles and Mercedes Williams Oldsmobile, saying they were going to dinner and a movie.
Gerald and Charlene got drunk that night, and it wasn't long before Gerald announced his intention of capturing more love slaves. Charlene drove as he scanned crowds at various shopping centers for candidates. It took a while, and Charlene, realizing that the game was getting ever more dangerous, was ready to give up for the night and head home. But early on the morning of November 2, Gerald ordered her to stop the car at Arden Fair, a popular shopping center. She was shocked to see that his intended victims were not two young girls, but a man and a woman, probably college students.
Charlene pulled the Oldsmobile into a parking space and Gerald got out, approaching Craig Miller and Mary Elizabeth Sowers with a .25 caliber handgun. Hoping their acquiescence would keep their drunken assailant from hurting them, they complied. They even kept quiet when a fraternity brother of Craig's, who had attended the same dinner the couple, was leaving, leaned into the car and asked what they were doing. Just then Charlene, still in the driver's seat, began shouting at the man and pulled away quickly. Not quickly enough, though. The fraternity brother wrote down the license number of the Olds as it sped away.
Charlene drove for a while out into El Dorado County until Gerald told her to stop. He ordered Craig out of the car and shot him three times in the head, then told Charlene to drive to his apartment. When they arrived he took Mary Beth into the bedroom. Charlene watched television, and when Gerald was finished raping Mary Beth, she drove the two out into the country again. He shot Mary Beth, and returned with Charlene to the apartment to dispose of evidence.
Apprehension
When Gerald and Charlene returned to her parents' house the next morning, the police were there. Gerald disappeared quickly, leaving Charlene to deal with investigators' questions. She and her boyfriend had gone to a movie the night before, she said; they'd driven his red Triumph. When detectives reminded her that the Triumph had been parked in front of the house all night, she said they'd gotten so drunk she couldn't remember which car they'd taken. The detectives left deeply suspicious.
Gerald decided that Craig Miller's body, which he'd taken no trouble to conceal, had to be moved before police found it. He didn't know, however, that it had already been discovered, and when he and Charlene went looking for it that night, it was nowhere to be found. It was time to run, they decided. They drove to Reno where they ditched the Olds and boarded a bus for Salt Lake City.
Back in Sacramento the evidence was mounting. Craig Miller's fraternity brother identified a picture of Gerald as the man he'd seen in the Oldsmobile with Craig and Mary Beth. Charles Williams told police that Stephen Feil's real name was Gerald Gallego. The bullets removed from Craig Miller's body matched those Gerald had shot into the ceiling of a bar where he had worked.
Charlene called her parents from Salt Lake City asking for money, which they wired to her. She and Gerald moved on to Denver, then to Omaha, Nebraska, where once again she called her parents. Reluctantly, they agreed to wire more money. This time, though, they told the FBI what they were doing. Agents were waiting at the Western Union office in Omaha, and they picked up the couple without a struggle.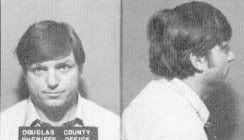 Mug shots of Gerald and Charlene Gallego when they were arrested.
Trials
Charlene struck a deal. It took a while, but eventually prosecutors arranged for her to plead guilty to the murders of Craig Miller and Mary Beth Sowers. In exchange for her plea and her testimony against Gerald, she was given a sentence of sixteen years and eight months, which was the minimum time to which she could be sentenced in California for first-degree murder. She struck a similar deal with Nevada authorities, pleading guilty to the second-degree murder of Karen Twiggs and Stacey Redican and receiving the same sentence. Oregon prosecutors decided to let California and Nevada bear the expense of investigation and trial and declined to file charges. Authorities in California were not happy with the plea bargain and tried to have it withdrawn, but in late 1983, a Sacramento County Superior Court judge dropped the charges against Charlene in the Miller and Sowers deaths. With the infighting over, the way was clear to prosecute Gerald.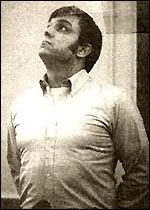 Gerald Gallego views part of his trial on TV monitors

Gerald, exhibiting the same hubris that had brought him to his current state, decided to serve as his own attorney. His misadventure in defense began with his deferring his right to an opening statement until after the prosecution had made its own statement. He further damaged his case and credibility by offering no cross-examination of Mercedes Williams, one of the prosecution's most effective witnesses. He did cross-examine Charlene however, for six days.
During the prosecution's questioning, Charlene had offered a defense for her lack of action. She had been afraid of Gerald, she said. He beat her and he threatened her. He demanded and kept all the money she made, and when she'd expressed doubt or displeasure, she testified that he shamed her, saying she wasn't the "girl with heart" he'd thought she was. During his cross-examination, Gerald tried to undermine her credibility, offering as evidence a love note she'd written him after their capture. He portrayed her as an unstable drug addict and got her to admit to a lesbian affair she'd had while in jail awaiting the trial. On the final day of laborious, trivial questioning, Gerald came to his point. "Mrs. Gallego," he said, "isn't the bottom line of your deal to blame both these murders on me to save yourself?" Charlene shot back, "No it is not!!!"
It seemed unthinkable that Gerald could do anything to further undermine his own defense, but he did. He put himself on the stand, which allowed prosecutors to catch him in countless inconsistencies. In his closing statement he admitted he'd taken "a legal licking," but asked the jury to believe him "on faith, if nothing else." They did not. On June 21, 1983, Gerald Gallego was sentenced to death for the murders of Craig Miller and Mary Beth Sowers.
Following the California trial, Gerald was charged in Nevada with the murders of Stacy Redican, Karen Twiggs, Brenda Judd and Sandra Colley. As Judd's and Colley's bodies hadn't been found, the State's best evidence was in the Redican/Twiggs case. Charlene had led investigators to a ball of white macramé rope in Gerald's car. The rope matched that found binding the hands of the bodies of Redican and Twiggs.

Gerald Gallego after his sentencing.

Gerald's second trial began on May 23, 1984 in Pershing County, Nevada. This time he let a public defender, Gary Marr, handle his case. Again, the strategy was to try and discredit Charlene's testimony. As star witness, she gave a detailed account of the last hours of Stacey Redican and Karen Twiggs. Marr had no more luck swaying the jury than Gerald had, however, and it took them just two and a half hours to return a guilty verdict. Gerald was again sentenced to death, becoming one of the few American criminals to be put on death row in two states simultaneously.
Epilogue
In the years since he was sentenced, Gerald Gallego vigorously proclaimed his innocence. In February 2001, Gallego appealed to the Nevada Supreme Court that his constitutional right to represent himself at trial was violated when self-representation was denied at his 1999 penalty hearing.
Attorney Brent Kolvet told the Las Vegas Review-Journal that Gallego was not really interested in representing himself as much as he wanted someone other than Public Defender Steven McGuire to represent him. Nor was Gallego cooperative during that penalty hearing. His behavior, which included turning his back on the judge, warranted the need for an attorney to represent him, Kolvet said.
Gallego at his 1999 penalty hearing

After Gallego's 1984 death sentence for the kidnap-murders of Stacey Redican and Karen Twiggs was reversed on appeal, he was given a new penalty hearing in 1999. The new jury took less than an hour to sentence him again to death a second time for the murder of the two young women.
Gallego was convicted of four killings. Charges were not filed in the cases of the other six murders.
The Nevada Supreme Court rejected his appeal.
The skeletal remains found in Lassen County, CA were confirmed by DNA testing to be those of Brenda Judd, 14, and Sandra Colley, 13. The girls were killed by blows to the head in 1979 after being abducted in Reno at the Washoe County Fair. Their remains were found in Nov. 1999 along U.S. Highway 395 some 25 miles north of Reno.
Gallego denied the killings and was not tried for their deaths. His wife Charlene had told police about the abduction and murder.
Charlene Gallego, known since the mid-80s by her maiden name of Charlene Williams, was released from a Nevada prison in July 1997. She did not tell authorities where she was headed, but agreed to register as a felon wherever she took up residence. Mercedes Williams, who raised the son Charlene bore in prison, said Charlene had left California and would not return.
July 18, 2002 Gerald Gallego 56, died at the Nevada prison system's regional medical center. He had been moved there from Ely State Prison's death row.
Gerald Gallego, prison photo ID, shortly before his death

Cause of death was rectal cancer which had spread to his liver and lungs. The medical director described him as a "very quiet individual. He was very reasonable about no extra treatment or resuscitation efforts." Gallego made no final statements, had no visitors and was heavily sedated when he died.