Hello Everyone. First of all let me say thank you to the excellent reports from Skyfunktres and DanD 2 on this exceptionally sick deranged child killer and serial killer. Great job guys.
The life & Death of every parents worst nightmare: Robert Black.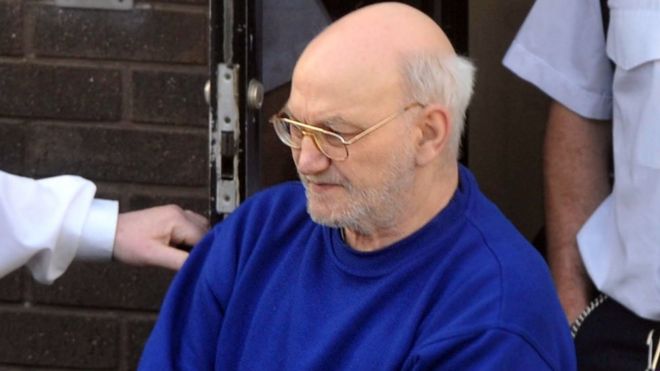 Robert Black - escorted to court in 2010
Let's not forget Robert Black died taking secrets to the grave, although he apparently confessed to a friend in prison about other murders, we shall never really know. What I know is that all of heaven had to be in a fury when Robert Black was born. A demon was growing here on earth making it a hell on earth for innocent children and their families. He was a maze of sick evil perversion, Black was  just like peeling the layers of a rotten onion  & you do not dream on finding out the entirety of it but there it was -one level of sickness and evil you just don't want to hear about happening ever again, naive to believe these predators wont keep offending. Breaking the cycle is another story, breaking Robert Black is a story in itself that has you unable to comprehend the mind of one of the worst child killers and serial killers we have ever heard  about. In this report I will cover most of his life story and all of his victims including the unsolved murders. Black always chose younger and weaker victims long before he preyed upon young girls, he would beat up a handicapped boy when in care, so this is in-keeping with his raping a baby. Again, he needs a soft target to feel more powerful.
It all began in Grangemouth, Scotland, April 21 /1947. A child was born to a young unmarried woman. Jessie Hunter Black. Within a few months he was placed in foster care, having refused to name his father on his birth certificate.  His first foster  parents after interviewing them became Roberts first family. Margaret and Jack Tulip who had previously fostered children but were now in their fifties. Having their hands full with Robert, Jack died when he was only five the only father Robert knew. It was reported Robert Black had no memory of him and it was said Jack Tulip and Margaret physically and emotionally abused him, although Robert said this was not true he was always covered in bruises. Roberts behaviour got rapidly worse and Margaret found it difficult to take care of him. He would wet the bed and claim that a monster lived under his bed, Margaret locked him up. She would pull down his trousers and hit him. Bed wetting is a common trait found in most psychopaths childhood, the shocking reality comes next. It was reported that at the age of 8 Robert molested a neighbours baby. If we believe Jack Tulip or someone else molested Robert as a child then this explains him molesting a baby at such a young age. there are too many documented accounts of a victimiser having been a victim carrying out such acts, almost like learned behaviour. What is terrifying is that Robert just did this because it was 'in him'.
When a beautiful little girl named Jennifer Cardy was only 9 this evil disease was still in Robert Black, now an adult--a man who was driving vans to make deliveries all over. Jennifer only wanted to go close by to visit a friend and so was allowed to take her bike. What follows next is a heart break and a real life horror. Jennifer was snatched from her bike and taken elsewhere. Her bike was dumped but Jennifer had been taken to a lake after being sexually abused she was tossed in to a  lake an object you want rid off, where she was left to drown. Her body was found six days later. She was his first known victim. The case baffled Law Enforcement. Her kidnapping held no clues as her murder didn't either. No one could have envisaged in  their worst nightmares what they were dealing with.
Lisburn
County Antrim, Northern Ireland
Lisburn
County Antrim, Northern Ireland
Robert Black: Jennifer Cardy's mother reacts to child killer's death in jail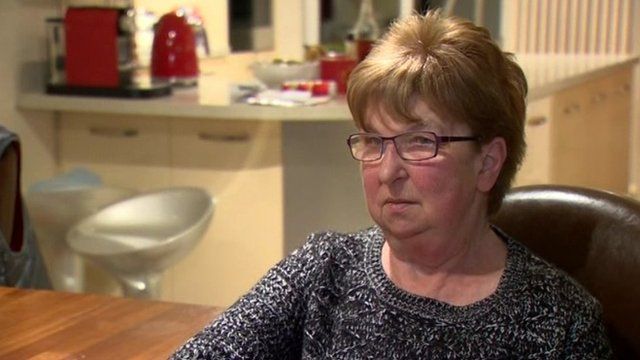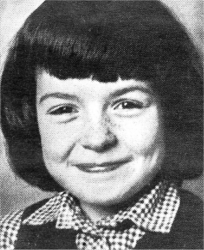 Jennifer Cardy. Murdered in Ballinderry County Antrim Northern Ireland. August 12th  1981.
The mother of one of the victims of child killer Robert Black has said her family has "mixed feelings" about his death.
Pat Cardy's nine-year-old daughter, Jennifer, was one of four young girls murdered by Black in separate killings in the 1980s.
Black's death in Maghaberry prison on Tuesday, at the age of 68, is believed to have been the result of natural causes.
Mrs. Cardy told BBC Newsline the news had not yet sunk in.